A Loving Community Seeking to Know Jesus Christ
and Make Him Known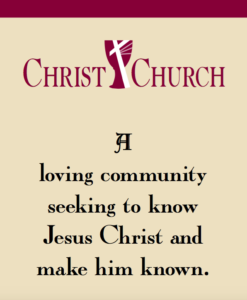 Christ Church strives to be a Loving Community Seeking to Know Jesus Christ and Make Him Known. Christ Church is part of the worldwide Anglican Communion, and the local Episcopal Diocese of Albany. As Anglicans, we emphasize the love of God. We believe the Church's mission is the restoration of all people into unity with God through Christ Jesus.
Our worship services follow the liturgy of the Book of Common Prayer and incorporate modern music and traditional hymns. Our congregation is like a big family, with great age diversity, and ministry opportunities for everyone. We acknowlege our deep need for our God, and our need for community with His followers who encourage one another toward love and good deeds. We genuinely enjoy spending time together, and welcoming others in.
Our congregation is made up of people from Ballston Spa, Saratoga Springs, Schuylerville, Ballston Lake, Burnt Hills, Albany, and other parts of the surrounding area. We recognize that the individual members of the Church are the Church. Pastoral counseling, bible studies, small group studies, and times of fellowship encourage us on our faith journey. We encourage and pray for one another to be a light and a blessing in our workplaces, homes, and the communities where we spend our time.
With youth groups, seniors luncheons, and other fellowship groups and studies, there is always something going on. At Christ Church, we open our doors on every day of the week. Our commitment to reach out in our community of Ballston Spa is a huge priority for us. We run the Noah's Attic Outreach Center and Thrift Store, the Christ Church Food Pantry, and KidsFirst Childcare Center. We trust God for His leading as we continue to grow as His Church.
We remain connected to the Worldwide Church through our support of missions organizations in places like Troy, New York, Appalachia, Malawi, Belize, and the Dominican Republic. Every month a different ministry is highlighted, and our connections with these organizations remain through the year.
Jesus is alive yesterday, today, and forever. We seek to honor Him, and truly love one another as He taught us to.
Click here for ways to get involved, or here for more information about our Sunday services.